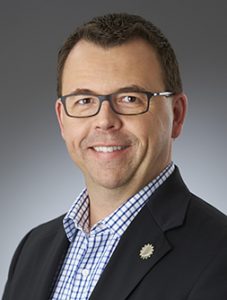 Indianapolis, IN – Wabash Valley Power, an electric generation and transmission (G&T) cooperative, announced that Brook Steed has joined the organization as Senior Regional Economic Development Representative for the Northeast Indiana region. Based in Ft. Wayne, Indiana, Steed will assist distribution cooperatives in the region with business retention, expansion, and attraction projects.
Steed most recently served as Director of the Northeast Region for the Indiana Economic Development Corporation where he spent nearly eight years helping companies and the region grow by assisting with specific economic and workforce development solutions. "Retaining and attracting businesses to the region are vital to creating a thriving community. I look forward to working with our distribution cooperatives to bring ideas and community leaders together to identify new opportunities for growth," Steed noted.
"Brook brings a wealth of expertise to our growing economic development team," stated Brian Anderson, Director of Economic Development for the G&T. "His experience will allow us to expand our resources and commitment to the communities and electric cooperatives in the region, including Heartland, Jay County, Kosciusko, LaGrange County, Noble and Steuben REMCs."
Steed is a graduate of Vincennes University and the University of Oklahoma's Economic Development Institute. He currently serves on the Northeast Indiana Regional Partnership Board of Directors, Fort Wayne Urban Enterprise Association Board of Directors, Regional Chamber of Northeast Indiana Policy Committee, and Greater Fort Wayne Inc.'s Economic Development Committee.
"Brook is someone who not only brings a breadth of expertise to this position, from city planning to workforce development, he also cares deeply about the success of the communities he serves, "stated Kathy Joyce, VP of Member and Corporate Relations for Wabash Valley Power. "We are thrilled to add him to our team."
About Wabash Valley Power
 Wabash Valley Power Association is a nonprofit electric generation and transmission (G&T) cooperative based in Indianapolis. The G&T provides wholesale electricity to 23 retail electric distribution cooperatives in Indiana, Illinois, and Missouri. Collectively, these cooperatives supply electricity to more than 350,000 homes, farms, and businesses.