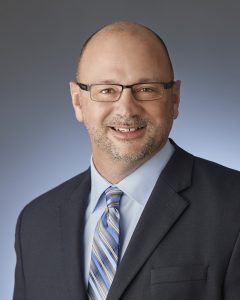 As Executive Vice President of Power Supply, Matt plans and implements WVPA's power supply strategy and portfolio development while overseeing the risk management process. He also supports and implements our wholesale market operations and purchased power agreements to meet the long-term needs of our member co-ops.
Before joining us in September 2020, Matt worked for ACES Power Marketing in Carmel as Vice President of Regulatory and Reliability Services. He also held the position of Executive Director of Portfolio Strategy to develop and implement hedging policies for ACES members based on each organization's distinct risk tolerance. He was one of the first system operators at ACES and actually worked with Wabash Valley Power on our legacy demand response program, so he was familiar with the WVPA member cooperatives before coming on board.
Matt earned his MBA from Indiana State University and his bachelor's degree in Industrial Technology from Purdue University.
When not watching the energy markets, Matt spends time with his wife watching their girls dance. He belongs to a CrossFit gym and also enjoys pretending to be a good golfer when the weather cooperates.