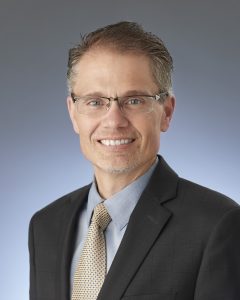 Jeff Conrad came to Wabash Valley Power Alliance in 1999 and has served in various leadership roles, including Chief Operating Officer, before being named President & Chief Executive Officer in 2022.
As CEO, Jeff is responsible for leading the organization and keeping the board informed related to all functions of the company including operations, legislation, regulations, future planning and provides recommendations to the board on policy matters. He is a member of the Wabash Valley Enterprise-Risk Management Committee and serves on the ACES Power Marketing and National Renewable Cooperative Organization Board of Directors.
In his previous roles as Chief Financial Officer and Chief Operating Officer, Jeff pursued the company's first credit rating, which increased the company's credit limit with its business partners. He also expanded the company's lender base allowing WVPA to raise the capital necessary to fund asset growth and led a power supply contract renewal with our cooperative members.
Jeff came to Wabash Valley Power from Cinergy's Energy Commodity Business Unit and earned a Bachelor of Science degree in Accounting in 1990 and a Master of Business Administration in 1995, both from the University of Indianapolis. An avid athlete, Jeff was a college tennis player and has completed many marathons, including the Boston Marathon.