Believe it or not, there's a stiff, cold wind out there that's helping to heat your home in the winter. And there's a blazing hot sun in the sky that can keep you cool all summer long.
Comparison of WVPA's power supply portfolio in 2010 and 2020.
Over the past decade, the way we generate electricity has changed dramatically. Advances in technology have made sustainable energy sources like wind and solar power not just good for the environment — but more and more affordable.
"Renewables like wind and solar were not the most economical choice for the first part of the last 10 years," said Lee Wilmes, executive vice president of risk and resource portfolio at the Wabash Valley Power Alliance. "But with more efficient, taller wind turbines and less expensive solar panel production, these resources have become an economical component of our power supply portfolio."
That's why Wabash Valley Power has taken a different approach to energy generation: a more balanced approach that incorporates a variety of fuel sources. "We've always said it's not a smart idea to put all your eggs in one basket," stated Wilmes. "We believe an approach that includes a variety of fuels and multiple sources of supply helps to cut down on electric market volatility and overall supply risk."
And that approach now includes less reliance on coal, the incorporation of more renewables and energy efficiency programs that help ensure affordable, reliable electricity not just now, but for decades to come.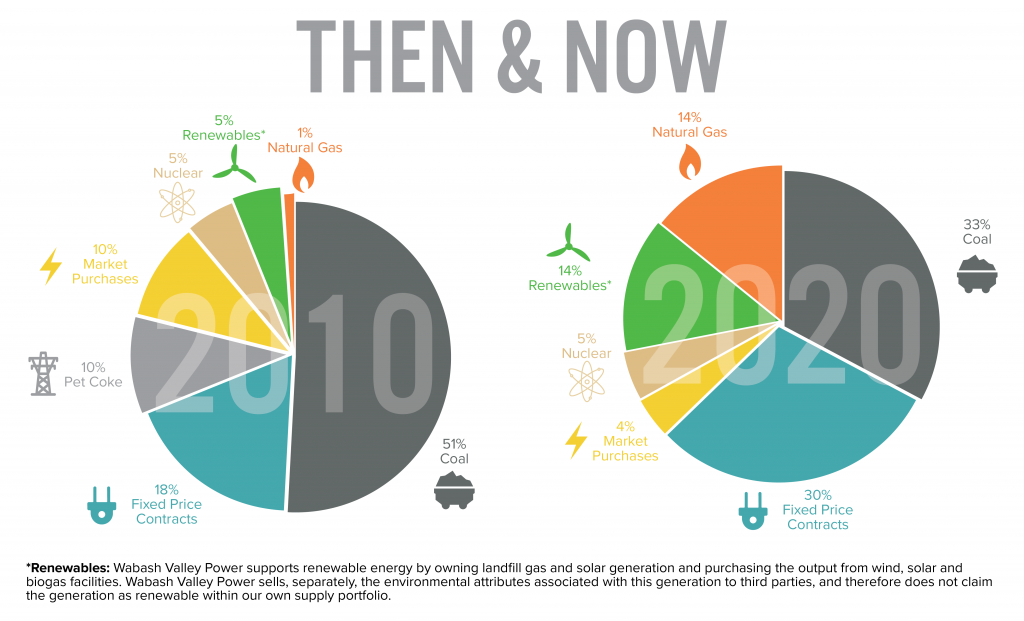 To support this diversification strategy, Wabash Valley Power purchases electricity from several wind farms and utility-scale solar arrays throughout Indiana and Illinois and has developed smaller, community solar arrays in all 3 states that it serves: Missouri, Illinois, and Indiana. Since as early as 2006, Wabash Valley has been capturing the methane gas from regional landfills and using that gas to power small turbines to make electricity. In fact, with 15 different sites throughout the Midwest, our landfill gas-to-electricity program is one of the largest in the region.
That's an approach that supports the long-term energy needs of homeowners and businesses no matter which way the wind blows in the world of energy.
And, according to Wilmes, there's more innovation yet to come — a transition to even more non-carbon-based resources and batteries that can help store electricity to better match the supply of energy with the ever-changing demand.
"Alternative energy is no longer an alternative," Wilmes said. "It's a big part of keeping energy costs lower, now and in the future."