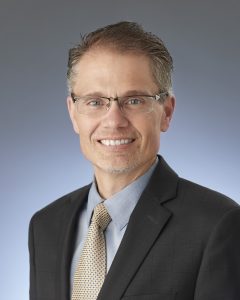 Indianapolis, IN – March 24, 2022 – Wabash Valley Power Alliance's (WVPA) Board of Directors announced today that Jeff Conrad will become the generation and transmission cooperative's next President & Chief Executive Officer. Conrad currently serves as Chief Operating Officer of WVPA and has served in leadership roles throughout the organization since joining in 1999.
Conrad will become Wabash Valley Power Alliance's fifth CEO since its founding in 1963 and will assume his new role on April 18th of this year. Conrad succeeds CEO Jay Bartlett, who retires after six years with the organization.
"The electric industry is in an era of unparalleled change and staying ahead of the ever-evolving needs of the members we serve will be the key to our ongoing success," board chairman Phil Hayes said. "We are confident that with Jeff's leadership and experience, Wabash Valley Power will meet the challenges of the future head on and continue to be a premiere provider of electricity to our alliance of electric cooperatives."
Conrad came to WVPA in 1999 and served four years as the Corporate Controller. In 2003, he was named Chief Financial Officer and in 2016 he was promoted to Chief Operating Officer. Prior to WVPA, Conrad worked for Cinergy's Energy Commodity Business Unit. He earned a Bachelor of Science degree in Accounting and a Master of Business Administration, both from the University of Indianapolis.
"I am beyond humbled to begin leading an organization I've valued and treasured since I began my career at Wabash Valley Power Alliance," Conrad said.
Wabash Valley Power Alliance is a not-for-profit generation and transmission electric cooperative serving 23 member distribution electric cooperatives in Indiana, Illinois and Missouri who, in turn, power more than 325,000 homes, schools, farms and businesses.