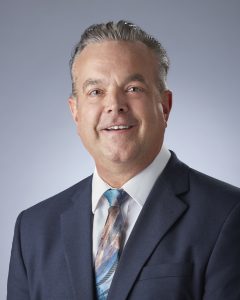 Jeff Hume leads our Member Relations and Business department. His role and department reflect one of our priorities to strengthen our focus on our members. The new division includes grid Innovation, portfolio integration, energy efficiency, and power supply coordination.
Jeff most recently worked as Executive Director of Business Development at ACES Power Marketing and had more than 20 years of business development experience with the organization. As Executive Director, Jeff developed and implemented plans to attract new members and customers. He also was responsible for expanding services to existing members and customers, as well as assist with services implementation. Jeff has more than 30 years of utility industry experience and has a strong understanding of the electric cooperative industry, including WVPA's membership.
Jeff earned his bachelor's degree in electronic engineering from the University of Dayton. When not in the office, Jeff enjoys spending time with his wife and grandkids, as well as throwing the frisbee with his dogs. He also works out and enjoys playing around in the pool, boating, and bowling.