May 09, 2014
(INDIANAPOLIS, IND.) –When President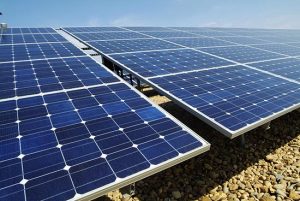 Obama spoke today in Mountain View, Calif., he highlighted solar projects that include 150 megawatts of new solar capacity planned by 199 electric co-ops in 27 states and American Samoa.
Hendricks Power Cooperative and Paulding Putnam Electric Cooperative are members of Wabash Valley Power, a generation and transmission (G&T) cooperative. The co-ops are taking different approaches to the introduction of solar energy, but each is poised for success.
At Hendricks Power, in Danville (IN), the co-op is nearing completion on a project that will result in 175 solar panels that are expected to generate approximately 60,000 kWh per year. For comparison, the average home uses 1,500 kWh/month.
Ohio-based Paulding Putnam has a working, household-sized solar installation at their office, part of a renewable energy demonstration that also includes a wind turbine.
"Across the country, member-owned, not-for-profit rural electric cooperatives are leveraging the benefits of cost-effective solar for their consumer-members," said Jo Ann Emerson, CEO of the National Rural Electric Cooperative Association. "True to the principle of putting members first, co-ops are leading in the development of community solar, an innovation that allows more consumers access to the benefits of solar."
Through the Cooperative Research Network, NRECA's research arm, co-ops are partnering with the Department of Energy on research to bring down the price of solar and make utility-scale solar projects accessible to the not-for-profit co-ops.
CRN is also working with five universities to help train utility staff on integrating renewable energy to the grid.
Co-ops are making significant investments in renewable resource generation, using loans from RUS and other sources. With solar becoming more cost competitive, electric cooperatives are poised to invest hundreds of millions of dollars in new projects.
As a generation and transmission cooperative, Wabash Valley Power meets the wholesale power supply needs of electric distribution cooperatives in Indiana, Illinois, Missouri and Ohio. Wabash Valley was founded in 1963, and has grown to include 26 member cooperatives that ultimately provide electricity to approximately 380,00 homes, farms and businesses.
Wabash Valley Power supports renewable energy, demonstrated by its ownership of landfill gas generation and contracts for the purchase of the output from wind farms and biogas generators. Wabash Valley Power sells, separately, the environmental attributes associated with this generation to its members and third parties.
The National Rural Electric Cooperative Association is the national service organization that represents the nation's more than 900 private, not-forprofit, consumer-owned electric cooperatives, which provide service to 42 million people in 47 states.