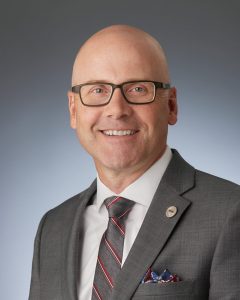 John joined Wabash Valley Power in April 2021 as Executive Vice President of Member and Stakeholder Relations. John is responsible for leading federal and state advocacy efforts on policies impacting WVPA's operations and business interests. He will build relationships with federal and state officials in the executive and legislative branches of government to ensure the interests of Wabash Valley Power and its member cooperatives are being addressed.
John has extensive experience in the electric cooperative industry. Prior to joining Wabash Valley Power, he served as the Vice President of Legislative Affairs for the National Rural Electric Cooperative Association (NRECA) in Arlington, Va., where he was responsible for effective, bipartisan outreach to the U.S. Congress. Before that, he served as Director of Government Affairs for Ohio's Electric Cooperatives (Ohio Statewide).
John earned his bachelor's degree from DePauw University, his master's degree from Southern Illinois University – Carbondale, and his Juris Doctor from Capital University Law School and is a member of the Ohio Bar. When he is not working, John stays active and busy supporting his three kids who are athletes. He and his wife also enjoy taking their family dog on long walks, and he enjoys reading and watching the occasional Netflix movie or documentary.