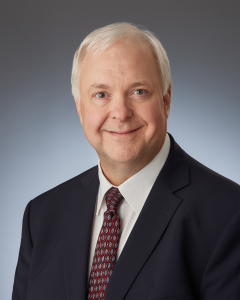 Jay C. Bartlett was appointed by the Wabash Valley Power Board of Directors as president and CEO and began his career at Wabash Valley Power on October 1, 2015. Bartlett keeps the board informed of developments related to operations, legislation, regulations, future planning, and other activities and provides recommendations to the board on policy matters. He also directs the cooperative's activities through his staff.
Bartlett was previously president and CEO of Prairie Power, Inc., a position he held since June 2009. He began his engineering career in 1984 at City Water, Light and Power (CWLP) in Springfield, Illinois, holding various positions in all aspects of water and electric power. He served as CWLP's assistant general manager and chief utility engineer prior to his 2009 move to Prairie Power.
Bartlett is active on multiple boards and committees, including representing Wabash Valley Power in the National Renewables Cooperative Organization. He also serves as chairman of the Prairie State Generating Campus and as vice chairman of ACES Power Marketing. Bartlett is a member and serves as first vice president of the National Rural Electric Cooperative Association G&T Managers Association, and he serves as one of two cooperative representatives on the Member Representatives Committee for the North American Electric Reliability Corporation.
Bartlett holds a B.S. degree in Electrical Engineering from the Rose-Hulman Institute of Technology and an MBA from the University of Illinois at Champaign-Urbana.
In his spare time, Jay enjoys travel photography, videography, and spending time with his family.